FOUR AND A HALF STARS!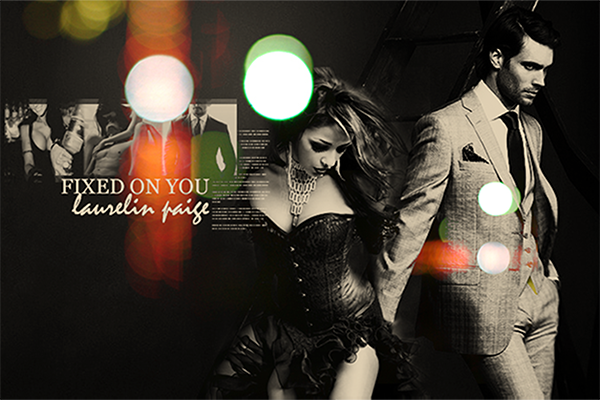 I was so nervous starting this book because I wasn't too inspired after reading the blurb, envisioning drunken dials and psychotic creepings, but I was pleasantly surprised by this little gem that I'm so glad that I decided to give it a shot.
Fixed on You starts off with that typical cliche proposal of I need to hire you as my fake!girlfriend so we can do fake things together and convince people that our fakeness is so real. Not to mention the added cringe-worthy drama of the heroine, Alayna Withers, being somewhat involved with another co-worker who she has tagged as her safe, happy ever after option but having a major lady boner for the new owner of the club where she works at, Hudson Pierce. But what evolves is a heart wrenching story of two broken people trying to break free from the tethers of their destructive pasts and learning to trust one another, despite all that stands in their way.
What really worked for me in this book was Alayna's character. I enjoyed the fact that she was open with her dealings with Hudson. If she was hurt and needed to clear the air, she opened her mouth and said so. If she felt like her unhealthy behaviours were starting to rear its ugly head, she was proactive about it and put up boundaries, went to her group sessions, worked through her techniques and coping mechanisms. If someone was a total bitch to her, she bitched right back at them and put them in their place. But what really got to me about her was the emotional pull that ambushed me. The bitter shame she feels when she realises she's relapsed into dangerous behaviours, the hurt she feels when her dismal familial support network falls apart, the emotional turmoil that she undergoes when her analytical mind obsesses over things Hudson said. The struggle was real, and I was overwhelmed with the connection I felt towards Alayna's character as a reader.
I did understand him. More than I had ever thought possible. What it felt like to be a certain way and to loathe myself for it. How difficult it was to change and learn to accept the parts of me that were fundamentally never going to change. And what it did to me to believe I was incapable of falling in love the way normal people do.
Hudson was also a character that really worked for me. I'd seen a few reviews that labelled him as an asshole, but for me, it didn't quite ring true. Yes, he may have been an asshole in the past, but I think many forget that one of the ongoing themes within the book is struggling to progress from where you were and not falling back into that black hole. Hudson has trouble coming to terms with his feelings, which is perfectly understandable considering his background, but his actions throughout the book isn't that of an intentional asshole, rather, someone trying to learn the ropes of having to be mindful of another's thoughts and feelings.
Other things that really worked for me were the sweet moments between Alayna and Hudson. There are some really awesome quotes in this book that had me drowning in feels:
He almost smiled, but squeezed his eyes shut as if trying to reign in his emotions. When he opened them again, they were pleading. "Alayna, don't quit. Don't quit me."
So, why not five stars? For me, the beginning was a little slow and it almost seemed like a typical run of the mill book until Paige changes the game and allows for readers to really get to know and connect with the two mcs. Not to mention the ever lulzworthy quote from the beginning of the book (before Alayna begins her journey of growth):
I glanced down at the black slinky pants that were so tight they gave me camel toe.
Lol. Camel toes and moose knuckles are definitely not my thing. So glad Hudson talks her into changing her wardrobe.
Overall, a surprisingly good read. Definitely continuing on with this series.