FOUR AND A HALF STARS!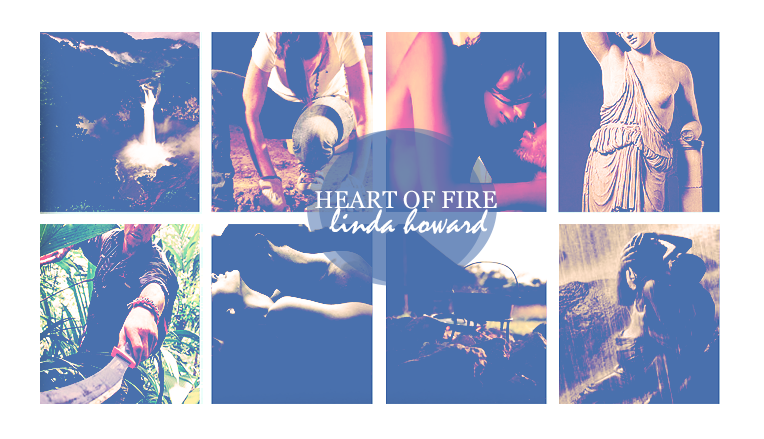 If you have never read a Linda Howard book in your life, then Heart of Fire would be an awesome book to introduce you to her. Being a huge fan of hers, I can't help but be a little biased when it comes to her works, but ultimately, I think this is a sure winner for fans of contemporary romances who adore strong women, sexy and unabashed heroes and a little suspense to keep those pages turning.
Jillian Sherwood is a woman with nothing to lose. All her life, she has had to work under the label given to her late father, a "crackpot" scholar who's flights of whimsy had eventually claimed his life. His standing within the archaeology community had made it so that others do not take her seriously, despite being fairly successful within her own right. Angered at the way opportunities are being withheld from her, Jillian peruses through her father's work, determined to clear his name and to kickstart her dwindling career. It is here that she discovers her father's findings on a lost Amazon city based around the myth of "the heart of The Empress," a myth that draws the interest of her deadbeat brother and his associate. They enlist the help of a river guide, Ben Lewis, and as their team travels towards the lost city, Jillian comes to realise that clearing her father's name may be too high a price for her to pay.
I cannot tell you how much I enjoyed this book. All the characters worked for me. Jillian is a strong and feisty female, smart and savvy and not your typical heroine in the sense that she is trim, small-breasted and entirely capable, which is a refreshing change. Ben is your loveable rascal, simple with his wants and pleasures, and generally good guy. The connection between them is instantaneous, and the progression of their relationship is sexy and slow, so that when they both start dropping the L-word, you have no doubts about the sincerity of their words. And the banter, my goodness, the banter is amazing. Case in point:
He looked suspiciously at her purse.

"No, it isn't in there," she said and smiled at him. "And I'm not buying your act. You found it when you searched my room, so you know I have a pistol, you know what kind it is, and you know where it is."

He smiled back at her, not denying the charge. Of course he had searched her room while he'd had the chance. "You have nice underwear."

"I'm glad you enjoyed it. Did you try it on?"

Nah. Just rubbed my face against it."
What also worked was the overall simplicity of the story. There aren't any plot twists that you wouldn't see coming; its all pretty straightforward. The imagery is great, and I could certainly envision every aspect of their journey. I also enjoyed the sense of empowerment this book gave to women. What with Jillian being perfectly capable of taking care of herself, much to the chagrin of Ben's overprotective and possessive instincts, the feature of female warriors, and strangely enough, Teresa, with her uncomplicated sexuality and the fact that Ben praises it rather than demeans her for it.
Would I recommend it? Yes, a thousand times yes. If you're a hopeless romantic like me with a streak for adventure, then you would absolutely love this book!