***Currently free on Amazon!***
THREE STARS!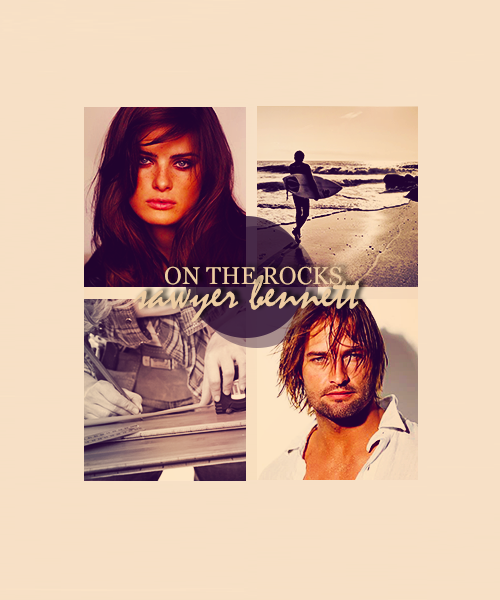 I had previously read Legal Affairs: Objection and enjoyed it so I was happy to try another book from Sawyer Bennett, thinking I would definitely love this read. And I was both right and wrong. Right in the sense that there were genuinely awesome, feel good sections to the book, and wrong in the sense that when parts were bad, they made me want to beat the ever loving hell out of my kindle.

On the Rocks starts with a kiss between long time family friends, Gabriella Ward and Hunter Markham. The kiss is made awkward by the fact that Gabby has always had a huge crush on Hunter and is dreaming of a happily ever after while Hunter is crowded with guilt for kissing his sister's best friend whom he has always seen as another little sister. Hurt from his rejection, an antagonistic relationship blooms between the two for the next five years, before necessity brings the two together, forcing them to finally confront their feelings for the other.

The Good:

* Its a nice, steamy read. If nothing else, Sawyer Bennett knows how to make enjoyable love scenes that fills out that requirement in a good adult read.

* When the two characters have their shit together, it is awesome, the relationship between them very sweet. Gabby with her support and steadfast loyalty to Hunter and his family, and Hunter's overprotective instincts towards Gabby, not to mention his "girly" emotions. I like a guy that can get in touch with his "feminine" side every now and then.

* The Dual POV. I love getting the male point of view, the contrast always helps make for a great read.

The Bad:

Unfortunately for me, there was just more bad than good in this read. The main negative in this book would have to be Gabby. Bloody Gabby. In the first half of this book, I was ready to yank my hair out. She is an absolute bitch and she knows it, readily confesses this fact for readers. I wasn't a fan of her wanting to hide her relationship with Hunter either when they finally get it on. (Like honestly, what are you, twelve?) Its not until everything is finally out in the open that I actually started to like her, started to enjoy the relationship between her and Hunter. They're talking with each other, they're acting like an awesome power couple, their relationship is really working so you can't help but wonder what all that bloody drama was about in the first place.

That is, until you reach the 90% mark. My goodness, if you'd ever wondered what a stupid plan made by a stupid person for absolutely stupid reasons looks like, then look no further, you've absolutely found it. Don't believe me? Well just read it for yourself. And if you're not convinced, have a quote from Hunter himself:
"Gabs...you cannot unilaterally decide what's best for me. This whole charade was stupid and nearly destroyed both of us."
There are other parts and other characters that didn't work for me but for the sake of time and the fact that I can't be bothered to list it all, I'll just leave it at this.

Would I recommend it? Not really. If its your thing, go for it. Personally, I'm glad that I got it for free from Amazon because in the end, there weren't enough good parts to really pull this off for me.