FOUR AND A HALF STARS!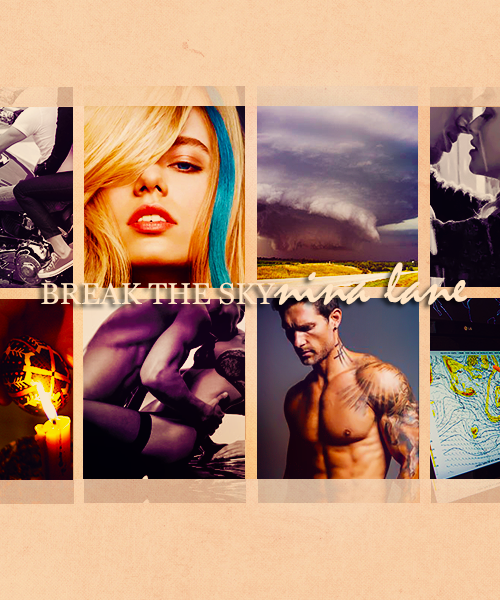 When I first met Archer in Allure, I was immediately captivated, wanting to bask in my glorious feels that only a reformed asshole could erect in me. I had found him so interesting that I was literally begging for Nina Lane to write his story, and wonders of all wonders, I got my wish.
Break The Sky is the story of two reformed souls struggling to escape the mistakes of their pasts. Professor Kseniya "Kelsey" March knows what is expected of her, knows how to be a "good girl", knows to stay in control at all times so as not to fall into the uncontrollable downward spiral that almost ruined her. So when Archer West rides into town and batters against that formidable control, she fights it, knowing that the heat sparking between them is too wild, too consuming, too temporary. But the pull is irresistible, and Kelsey is unable to withstand Archer' s intensity, the storm brewing between them raging strongly and absolutely beautiful in its destruction.
There were so many things that worked brilliantly for me that I'm still trying to come to terms with it all. Archer, my goodness. Let me tell you about Archer freaking West.


I didn't think that anyone could surpass Professor Dean. He does it for me, an academic with a body to die for and so possessive that it makes me giddy just to think about it. But then Archer West comes along and I'm whimpering pathetically and my ovaries are all "Dean who?" If you've ever wondered if a tatted guy could be bad ass and drink chocolate milk at the same time, I'd say hell yes and pour that milk all over me so he could drink it. He's so unabashed in his desires, so direct in his dealings, so devastating in his efforts to reach out towards family that its absolutely too much. What really had me though was the heart break in him.
"Mom and Dad gave you everything they gave me and Paige," Dean said.

"No, they fucking didn't."
"Oh, yeah?" He whirled around, his arms spread. "What, Archer? What the fuck did you not have that Paige and I did?"
"A family!" I shouted. "A goddamned family, okay?"
I can't quite express just how brilliant he is but suffice to say, this is one book boyfriend that has forever ruined my expectations for men in real life.
Kelsey March was a good character for me. She's so stubborn which was frustrating at times, her character somewhat different from what I had expected from the Spiral series. Despite this, there were aspects of her story which I could identify with. For one thing, the differences between her and Archer academic wise. I'm not going to lie, with a double degree in Med Sci and Arts, I have never been able to imagine myself with anyone who hasn't done the same amount of studying as I have. So when this issue was brought up, I found I was both ashamed of myself and of Kelsey for (briefly) thinking less of Archer simply because he's a high school drop out. I've always valued education but I didn't realise how uncharitable I've been to others, and its not a great feeling. The other thing that I could relate to was Kelsey's parents. I'll be honest, I absolutely cried when I read about their journey and struggle to find a better life for their Kseniya. Their story was an absolute reflection of ours and I balled my eyes out when I imagined Alexei with my own dad's cracked and work-roughened hands or Vera with my mum's arthritic hands.
The love scenes between Archer and Kelsey were definitely steamy. Archer's alpha male side came to the fore and that delightfully wicked mouth of his was to die for. But what did it for me the most was the emotional aspect of their relationship and their struggle to reconcile themselves to the fact that they mean so much more to each other than they're willing to admit.
I yanked my arm from Archer's grip and slapped his face again. A red imprint spread over his jaw. Grim satisfaction filled me.
"You want more?" Archer released me and yanked open his leather jacket to expose the damp white T-shirt underneath. "Go ahead. I'll take it."
"You sonuvabitch." I flew at him, hissing and scratching. My fists connected with his chest, his face, his abdomen. "How dare you? How fucking dare you come here and turn my world upside down and then leave? How dare you think I would fall in love with a man I thought was less? You've never been less, Archer! You've always been more...so much more...too goddamned much..."
The impact of my fists barely moved him, but I felt his unleashed pain. I could hardly see his expression past the blur of tears. I slapped him again. His hand closed around my wrist to stop another blow.
"Goddammit, Kelsey," he whispered. "I surrender."
So, why not five stars? While I loved almost everything in this book, I have to admit, the beginning was kinda slow. Don't get me wrong, I could totally enjoy a book based off the simmering heat between mcs, but the emotional roller coaster ride that started for me at about the 65% mark and the intensity that it brought had me wishing that it started a little earlier. While the second half of the book is almost enough to smash through to the five star threshold, my frustrations with Kelsey and my desire for a little more forces me to hold off on the five star rating.
I would definitely recommend this book to others, especially to those who loved what little of Archer they got during the Spiral series. For me, this book was definitely worth the wait!